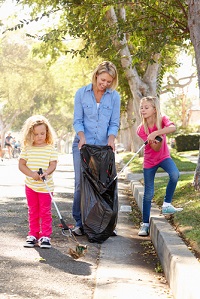 The community in which you live can be more than just the area surrounding your home. Ideally, it's a place where your friends and neighbors come together to make a real and lasting impact on one another's lives, and where your children learn to contribute to not only their household but also the world around them. In today's increasingly distant and aloof society, however, it's not always easy to know where to start. It's not uncommon for next door neighbors to see each other in passing for months or even years without sharing much beyond a curt nod or brief wave, but that doesn't have to be the norm. Investing in your community as a family goes far beyond financial investments, and will change the world around you in noticeably positive ways and help your kids learn to do the same as they get older. These are seven of the ways that you can invest, as a family, in your neighborhood.
Support Local Businesses – One of the quickest and most effective ways of investing in your community is to shop locally, support small business and contribute to family-owned enterprises by spending your money there, rather than big box retailers. Make a point of buying local, and take the time to explain why it's important to spend a few dollars more at a local shop than to add to a national corporation's fat bottom line.
Make Charitable Donations – Organize a community garage sale and donate the proceeds to a local charity, make a point of sending your gently used clothing to a community thrift store and encourage your kids to save up for donations of their own to community centers and other outreach programs that benefit the neighborhood as a whole. In addition to making a difference on a local level, you'll also be teaching your little ones a very valuable lesson about civic responsibility.
Volunteer With Local Organizations – No-kill animal shelters, food banks and other local outreach organizations need funding, but they also need the help of dedicated volunteers. Setting aside a bit of time to volunteer as a family will help to strengthen your community while allowing you to all spend a bit of quality time together. Look for age-appropriate programs to get your children involved, and invest your time into making a difference in your neighborhood.
Join a Community Supported Agricultural Exchange – Eating locally grown, organic foods is an investment in your family's health and nutrition. Obtaining that food by working with a community supported agricultural exchange is an investment in sustainable agriculture, your neighborhood and local farms. Either way you look at it, working with or contributing to a CSA program is a worthwhile and valuable way to invest your time, effort and money as a family.
Support Elderly and Mobility-Challenged Neighbors – There are ways of helping your community through donations, organized volunteering and working with charitable programs, but you can also invest in your community by getting involved on a personal level. Encourage kids to help an elderly neighbor with gardening or shoveling a snowy sidewalk. As a family, help a mobility-challenged or differently-abled neighbor with household tasks. They'll benefit from your assistance and your kids will learn about compassion and the importance of helping those who are in need.
Build Relationships – Part of what makes a neighborhood into a community of people, rather than just a collection of people who happen to live on the same street, is the sense of togetherness. Greet new neighbors with baked goods. Make conversation over the garden fence. Do what you can to build relationships with the people around you, and encourage your kids to do the same.
Organize and Throw a Block Party – A block party is a great way to get to know your neighbors in a relaxed, convivial environment. Get out there, meet your neighbors, organize a potluck and spend time with the people around you. Your community and your family will benefit from the relationships fostered through a group celebration, which can also help to instill a sense of community pride.
Because every community is as unique as the people living within it, you should make a point of looking for new and creative ways of making a difference and investing your time as a family to affect positive change. Tailor your approach to the needs of your environment, making the neighborhood not only a better place for your children to grow and mature, but also a better place for everyone around you.