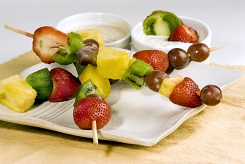 The first words out of most kids' mouths when they return home from school usually have something to do with how hungry they are. Questions about their day, discussion of pertinent issues and even pleasant greetings take a backseat to finding food, which is why it's so important to have plenty of ingredients on hand to throw together quick, easy to make snacks. As the rates of childhood obesity and attendant health risks rise, however, it's also important to make sure that those snacks are healthy. These are 10 snacks that are sure to please, and won't require all afternoon to put together.
Sweet Potato Fries – Frozen sweet potato fries are a snap to prepare, and their fun shape helps kids to be more adventurous about trying new foods. Look for organic varieties in your grocer's freezer, and bake them rather than opting for fried preparation. They're a healthier alternative to traditional fries, and are just as good with all-natural ketchup or barbecue sauce.
Whole Wheat Toast and Cream Cheese – Light cream cheese can be just as tasty as full-fat varieties, especially when it's blended with fruits or other favorite flavorings. If you're not wild about the idea of serving artificial flavorings and additives, spring for an all-natural, plain variety and mix in your own favorite organic fruits and veggies for flavor.
Frozen Fruit – The heat of summer hasn't always passed into the cooler temperatures of autumn when school starts in some regions, and a cool snack is always a welcome treat on a hot day. Frozen fruit is a far healthier alternative to processed popsicles or ice cream and requires almost no time investment at all to prepare.
Fruit Kabobs – Skewering slices of organic fruit makes for a quick, healthy and fun snack for your little scholars. Choose varieties that are in season, local and pesticide free for maximum health benefits, and be sure to dip apples in lemon juice to prevent unsightly browning if you're preparing them in advance.
Deli Roll-Ups – Rolling cheese, additive-free deli meat, dressings and lettuce up in sandwich wraps and cutting them into pinwheels makes for a fun and guilt-free snack you can serve to your brood when classes end for the day.
Peanut Butter Dip – Provided that your children have no peanut allergies or sensitivities, mixing peanut butter with cream cheese and a dollop of milk will create a delicious and healthy dip for fruits and whole wheat crackers. If there is cause for allergy concern, opt for sunbutter or other nut butters for the same tasty, protein-packed result.
Veggie Sticks – There's something about dipping that makes almost any food fun. Cut raw veggies into sticks and serve them with light dressing, salsa or hummus for dipping. Kids will love the fun of dipping into their healthy snack, even if it doesn't contain a plethora of added salt, chemicals or additives.
Dried Fruit – Dried fruit and trail mixes are fun for kids, and a healthier alternative to chips or other fatty snacks. Dried fruit also isn't sensitive to spoilage in the same way that fresh fruit is, so mixes can be prepared in advance and stored in airtight containers for extra-fast snack potential.
Smoothies – There's just something about a snack that kids can drink through a straw that's automatically elevated, even if it contains natural, healthy produce and wholesome yogurt instead of high fructose corn syrup and artificial flavors. Choose organic frozen fruits, and combine them with yogurt, a bit of ice and a dash of milk. They're just as much fun as a milkshake, with none of the unnecessary additives and all of the flavor.
Fruit Leathers – Kids love processed fruit rolls, but they're full of things you'd rather not feed to your children. Instead of springing for the heavily-marketed, cartoon-adorned and additive-laden fruit rolls on the shelves, check the organic section for natural fruit leathers. Parents and caregivers who are handy in the kitchen can even whip them up themselves, giving you complete control over the ingredients.