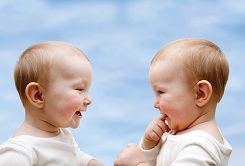 Managing multiples? No problem. With this list of 100 of the best parenting tips for moms of multiples, you're bound to find a plethora of new tricks that make life easier.
Stocking a Nursery
Two of everything or just one? When it comes to caring for your babies what do you need to double up on and what can you live without?  Check out these tips for stocking a nursery for two.
Baby Gear and Clothes
Shopping for the perfect double stroller? Looking for coordinated clothing? Check out these tips for what you need, what you don't and where you can find things specifically geared towards moms of multiples.
Feeding
Milk for two? Whether your breastfeeding or bottle feeding, there's plenty of tips that can help moms of multiples manage. Check out these 10 tips on how to make feeding multiples easier.
Bathing
Trying to keep those cuties clean? Check out these tips for getting your babies clean without throwing out your back in the process.
Childcare
Choosing childcare? Check out these tips for choosing the right childcare provider for your twins.
Sleep
Feeling sleep deprived? While twins give you double of almost everything, unfortunately sleep isn't included. Check out these tips to help you sleep more when you're caring for your babies.
Parenting Advice
Does fair really mean equal? Wondering how to navigate disciplining your twins? Read on.
Support Groups
Got support? You're going to need it. Check out these tips for connecting with other moms of multiples that can share in your daily joys and troubles of raising two.
Financial Challenges
How much does it cost to raise twins? Too much! Check out these tips to help you be fiscally savvy while raising your brood.
Tips & Tricks for Managing Multiples
Who knew color coding bottles with a hairband would make bottle feeding easier? Practical tips and tricks for raising multiples are coming your way below.