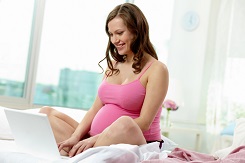 Finding out you're pregnant is an exciting time, but it's also a scary one, especially if it's your first time. You don't know what to expect or how to become the type of parent who inherently knows what to do. Put those fears at bay, though, because there are no perfect parents. In fact, most parents figure things out through good old fashioned trial and error and gut instinct. Additionally, the internet has made it a little bit easier to figure out what to do in times of uncertainty, and we've handpicked these 100 blogs that are packed with tips and tricks for navigating through the somewhat murky waters of parenting so that you can breathe a little easier during each phase of life.
Pregnancy
Doctors will tell you that no two pregnancies are exactly alike, even with the same woman. However, many women experience similar things during pregnancy, which can help you get a general idea of what to expect. These 10 blogs will guide you through different common pregnancy occurrences, and help you have the best pregnancy experience possible.
Infants (0 to 14 months)
Once you give birth you are probably going to experience a myriad of emotions, and you'll likely be feeling overwhelmed and nervous about the large responsibility you suddenly have tasked to you as you care for your little one. You'll also find that people won't hesitate to give you advice about what you should and shouldn't be doing, and it can be hard to determine which advice to follow and which to discard. That's where these blogs will come in handy. Whatever you're experiencing with your little one has likely happened to someone else who has posted about it. Check out these 10 blogs to navigate through any uncertainties you face during your first year.
Toddlers (14 to 36 months)
The toddler years can be a roller coaster of emotions. Your little one is beginning to spread his wings and test his boundaries. It's your job to let him grow and learn, but also keep him safe in the process. Toddlers are also prone to tantrums because they don't yet know how to properly verbalize their feelings and frustrations. It's imperative that you know how to deal with these tantrums as they arise. Check out the advice in these blogs to learn what to expect throughout the toddler years and how to handle issues that may come up.
Preschoolers (3 to 5 years)
Every stage has its fair share of challenges. While each child is different, the preschool stage is one that is marked by curiosity. You may get a lot of 'why' questions at this stage. Some questions you will be able to answer and others you may not know how to respond to. Don't feel like you have to know everything just because you are the adult. Showing your preschooler how to look up answers to questions is an important skill to share. Advice for raising your preschooler can be found in these 10 blog posts.
Elementary (5 to 9 years)
Be prepared to enter a whole new chapter of life as your little one prepares to start school. This period can be emotionally difficult for many parents, as well as scary for your child. Reading tips and advice ahead of time can help you prepare for any problems you may encounter as they arise. Listen to your child, even if it seems like he never stops talking, and check in with him often to make sure he isn't being bullied or having any problems in school. You'll find advice for coping with your child going to school and any problems he may face in these 10 blogs.
Tweens (10 to 12 years)
The tween years are an exciting and challenging time in your child's life. As she enters this stage, it's likely that she'll start to pull away from you a little bit. She's also probably discovering who she is, defining her own style and becoming more interested in her looks. Try to keep the lines of communication open by spending one-on-one time with your tween. During this period of development she'll encounter significant physical and emotional changes. These 10 blog articles will educate you on what you may experience and try to give you advice for dealing with any issues that arise.
Teens (13-16 years)
The teen years are often given a bad rap; however, you can circumvent some of this by keeping the lines of communication open and having a mutual respect with your child. Your child is simply growing up, and as a parent you have to come to terms with that and figure out how you're going to help. Surprisingly, many teens still want you to set boundaries for them – they just also want your trust. You can find advice on what to do if your teen goes off course in these 10 blogs.
College
Your role as a parent becomes a little murkier when your child leaves home to go off to college. During this stage you become more of an advisor, and it's important to let your child learn to live on his own. Your child may call and lean on you a lot as he goes through this transition period, but it's important that you also encourage him to make his own decisions. Try to limit calls to once a week, not five times a day. While you may be missing your child and love hearing that he still needs you, it's important that he learns how to live on his own. Otherwise he may never leave the nest. Parents that have gone through what you are going through have posted advice in these 10 blogs, so read on for some helpful insight.
Bullying
Bullying is a hot button issue right now, especially with the many student deaths that have been blamed on bullying. In these 10 blogs you can learn what signs to look for to know if your child is being bullied or if your child is a bully. There is also advice on how to make your child strong enough to reduce her chances of being bullied. The important thing about bullying is to be sure that you don't ignore it because it may escalate and do more damage.
Confidence Building
Every parent wants her child to be confident, but how do you help your child gain confidence? From a young age you can affect how confident your child becomes. Teach her the ways to do something, then step back and let her do it. When you hover you are sending the silent message to your child that you don't think she can succeed without you. Make sure that you give praise to your child when she has done something great, but don't go overboard. Too much of anything makes it lose its specialness. Read through the advice in these 10 blogs to see how you can help your child become a confident person.