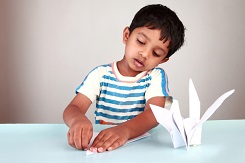 The beauty of crafting with paper is the versatility of the medium. It can be cut, punched, folded, glued, stapled and rolled, among many other things. These 100 blogs are just the tip of the iceberg when it comes to paper crafting, and cover everything from scrapbooking to origami, decoupage to quilling, card making and flowers, just to name a few. These works of art can be shared with friends and loved ones, used as decorations in the home and on packages, and much more. For more details on the many different ways you can craft with paper, check out these 100 blogs.
Scrapbooking
As digital photography continues to advance it's becoming more common for people to forgo traditional scrabooking in favor of a digital approach. However, for those traditionalists who enjoy having a hard copy of their photos complete with handwritten sentiments, there are plenty of ways to create a unique, handmade scrapbook, and you need little more than scrapbooking paper, photos and a little know-how. Take a look at these 10 blogs for different scrapbooking techniques for background papers and layout designs.
Origami
The ancient art of paper folding is often thought of as a relaxing hobby. Origami purists maintain that true origami is done without any cutting or gluing, however, there are some origami projects that require both. Smaller projects can be created with a single sheet of paper, and are easy enough for a child to make with some instruction. There is even a myth that says that if you fold 1,000 origami cranes you will be granted a single wish from a live crane. These 10 blogs will teach you different origami projects and give you some background on the art of folding paper.
Decoupage
In the simplest terms, decoupage is an art form that decorates another object by gluing paper to it. This can be tissue paper, a napkin or even a magazine picture. The glue not only holds the image down, but it protects the final product from damage as well. Japanning, which is similar to decoupage, has been around since the 18th century and used varnish instead of glue. You'll find several different decoupage projects on these 10 blogs.
Quilling
In quilling, narrow strips of paper are rolled up and then pressed into various shapes. This hobby originated with the monks in the 16th century when they would use the discarded edges that had been trimmed off the paper they used to document historical events. The paper was edged with gold and pricey, so it was used in lacier scroll work instead of the tighter rolls seen in modern quilling. Quilling can be done on a flat surface or can be made into a 3-D object. To learn more about quilling, read these 10 blog entries.
Card Making
Making your own greeting cards is a labor of love. It was once thought that 'homemade' cards were cheaper than buying cards from the store, but today's handmade cards are so intricate that they are often every bit as expensive as store-bought ones. People who make cards do so because they truly enjoy the hobby and those lucky enough to receive a handmade card should cherish it and appreciate all of the time and energy that went into making it. If you appreciate paper crafting, you may enjoy some of these 10 card making blogs.           
Flowers
Tissue paper flowers are becoming more popular as decorations for parties and holidays. The big colorful poofs of tissue paired with hanging paper lanterns will make quite the statement at your next gathering. Other paper flowers can be used in vases and will add a bit of whimsy to any tablescape. Try making some paper flowers of your own using the instructions on these 10 blogs.
Holiday Decorations
Paper is so versatile that you can make everything you need to decorate your home for the holidays with it. You can top the tree with a 3-D star, create a paper garland to drape around the tree, make unique 3-D ornaments and even make paper Christmas trees to use around your home.  If you are intrigued and would like to try some of these ideas for yourself, follow the directions in these 10 blog posts.
3-D Packages
When you give a gift to someone, do you just hand it to the recipient or do you wrap it up in a nice way? Sometimes the packaging can be just as much fun as the gift. You can make your own boxes and greeting cards from paper, and handmade packaging gives each gift an extra special touch. To learn how to make unique handmade boxes, check out these 10 blogs.                               
Zentangles
Some people like to craft, but find that they really don't have the time or energy to mess with everything that's entailed with more intricate projects. 'Zentangling' is a relatively new hobby that incorporates doodling inside a shape. Many people find Zentangling to be a very 'zen' experience, and often get lost in their project. All you need is a pen and some paper to get started, and you'll quickly find that zentangling can help reduce your own stress levels too. Projects and pattern examples can be found in these 10 blogs.
Bow Making
When people think of bows they typically think of ribbon, but you can create some impressive bows by using paper. These 10 bloggers share examples of paper bows and give you the steps so that you can try making some for yourself. The next time you wrap a present and find that you are out of bows just refer to these blogs and make your own.