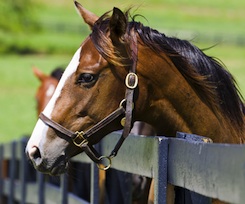 If you've ever longed for the wide open spaces or thought that living the simple life would be a blessing, then take a look at these 15 blog articles about life on a ranch. These bloggers let you step into their shoes and see what their daily lives and activities look like.  Find out what a horse rancher does on a day-to-day basis, as well as all of the ins and outs of cattle ranching.  Does the work ever end, or do these ranchers live, eat and breathe life on the ranch?  Find out by reading their blog posts.  Horse and cattle ranches aren't the only ones out there; you can also learn about llama, ostrich and goat ranches, just to name a few!
Horse Ranch
One thing about ranchers is that they try to be self-sufficient, both to keep more money on the ranch and because they are often located quite a distance from civilization. Some ranchers will plant tons of vegetables so that the food can be canned or preserved for the future. You can even find out how to make your own saltine crackers! To read about daily life on the ranch, check out the next five blog entries.
Cattle Ranch
Thanks to a blogger turned television host, more people are getting an idea of what life on a cattle ranch is like. Ree Drummond's blog Pioneer Woman is included in this list, so you can read more about her life on a ranch in Oklahoma.  Other cattle ranchers share their versions of life on the ranch and the challenges they face.  Take a look at these five blog posts for more ranch stories.
Other Ranching
While cattle and horse ranchers get more press, there are many more types of ranches out there.  Read the five blog articles below to learn about raising everything from llamas to goats to ostriches. These blog posts will open the door to a whole new world and give you a glimpse of a lifestyle that is not common to many people.  Maybe these stories will inspire you to quit your job and go live on a ranch!