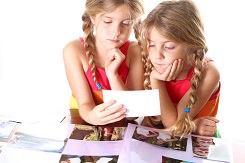 More photos are taken now than probably any time in history. With the prevalence of handheld cameras and cellphones equipped with photo-taking abilities, photography has become a hobby for anyone and everyone. While the invention of digital photography has made it much simpler to take tons of pictures, few pictures seem to make it to paper. However, looking at and sharing pictures is more convenient when the photos are in a photo album. You can create many different types of photo albums at home; all you really need is decorative paper and some common household supplies. The albums in these 21 blogs vary in size, from an exploding 3-D box to a tiny pocket album, and come complete with instructions so you can easily create your own.
3-Dimensional
Try your hand at making a 3-D photo album for something different and fun. These exploding box photo albums are unique and make a great conversation piece. If you are looking for a sentimental gift to share with a loved one, these 3-D albums will fit the bill. While these projects may look complicated, the bloggers behind them help simplify the process and break the project down into steps so that you can easily create one of your own.
Book Fold
These book fold photo albums may be traditional, but they are anything but boring. Try using some paper lunch sacks to make a photo album or a single sheet of scrapbooking paper. The cutting and folding techniques give these photo albums interest while providing a vehicle for mounting your favorite photos, and are small enough to dedicate each album to a special event, such as a vacation or a graduation. These seven blogs will give you step-by-step instructions on how to create these small wonders.
Expanding
With expanding photo albums you can mount as many photos as you want simply by adding more paper, and the albums open up to display pictures on many surfaces. Instead of a regular flip book, there are many unique ways that expanding albums display photos, such as the accordion album that stands up on its own and can be displayed on a table or mantel. If you need to mail an expanding album, simply fold it up. Read more about expanding albums in these seven blogs.