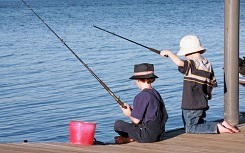 While traditional play dates where kids come over to play for a few hours and then go home will forever be a mainstay, sometimes jazzing them up with a theme adds some pizazz and breaks the ordinary routine. Whether you're having your playgroup over to celebrate a holiday or you are just getting a group of kids together to play, having a theme can turn an ordinary play date into a special event.  Check out these 28 blogs to find theme ideas that are be entertaining for all kids.
Holidays
If it's your turn to host a play date and a holiday is just around the corner, creating a theme around the holiday is the perfect way to spice up an otherwise normal date with friends. You can incorporate simple craft ideas, festive foods and fun games to celebrate the holiday during your play date. In these seven blog entries you will find play date ideas for a bunch of different holidays.
Boys
If your house is going to be full of little boys, theming the play date with dinosaurs or super heroes can catapult the play date to epic proportions. Take your sons favorite hobbies and use them as inspiration for a day spent with his friends. In these seven blog posts you will find play dates featuring everything from super heroes to Legos to dinosaurs.
Girls
If you're hosting a play date for a group of girls that love to play dress up or bake cupcakes, these themes might be just what you're looking for.  A bonus to throwing a baking-themed play date? You have built in treats ready to be gobbled up as soon as they come out of the oven! Take a look at the theme ideas and see which one sounds good to your kids.   
Boy/Girl Playdates
Often, playgroups will have both boys and girls, so why not have a theme that caters to them both? Consider throwing a dance party, a pizza party or a snowman themed play date.  Many of these play date ideas use items that you already have around the house, so you won't have to spend a fortune setting everything up.  Get more details about play date ideas on these seven blog articles.