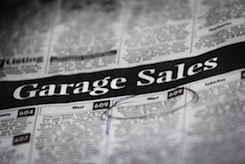 When this time comes around each year, homeowners across the country take the opportunity to make a big push towards organization and cleanliness. One of the best ways to get rid of all that clutter after the big cleaning is to host a garage sale,  which is why spring is the best time of the year for avid bargain hunters, too. If you're looking for the bargain of a lifetime or that rare find, take some hints and tips from these thirty garage sale experts.
Finding Yard Sales
Before you start aimlessly driving around your neighborhood, hoping to stumble upon garage sales, save yourself some time by devising a strategy. To find the best garage sales, you need to think like someone who is hosting a garage sale. Some hosts will use traditional and online advertising, whereas others will rely on word of mouth and lawn signs. These five blogs will give you a personal tour of the garage sale world, with hints and tips on how to begin your bargain hunting adventure.
Clothing and Toy Sales
Clothing and toys are perhaps the easiest items to find in garage sales. In the world of garage sales, though, quantity does not necessarily guarantee quality. Whether you are buying for yourself or looking for gifts for family or friends, you don't want to make a hasty purchase that you'll regret later. Take the time to check clothing and toys for damage. If the damage is slight, don't rule out buying the item, you can use it as a bargaining tool. There are plenty more tips on buying clothes and toys, along with basic yard sale etiquette and survival tips, in these five blogs.
Furniture, Tools and Household
Garage sales are a great way to get the furniture, tools and household items that you need at bargain-basement prices. Some garage sale hosts will even provide delivery for larger items, which means you don't have to miss out on an amazing deal. Always check furniture items for damage, as you don't want to end up with something that's going to fall apart before you even get it home. Follow the advice of these five bloggers to devise the best strategy for furniture shopping at garage sales.
Odds and Ends
Buying odds and ends at retail prices is usually expensive. There are so many of life's little accessories to fill a home with that by the time you're done shopping, you might need to take out a second mortgage. Instead, have a rustle around in the boxes you see at garage sales!You may be surprised at you can find if you dig deep enough. For all the best bargain buys, take your cues from these five frugal shoppers.
Vintage and Antique Sales
If you have a specific item or antique in mind, you may find what you're looking for at a nearby garage sale. Vinyl records and quirky, old fashioned furniture can make for good investments, so make sure you do your homework before setting out. Although these kinds of items are rare, some garage-sale hosts actually specialize in finding them and selling them on to you at a fair price. Pick up some tips on how to find valuable vintage and antique bargains, by reading these five blogs.
Flea Market Bargains
Garage-sale is a very loose term. In order to optimize the potential for attracting buyers, many sellers take their wares to local flea markets. These markets can be treasure troves of retail goodness, brimming with bargains just waiting for you to come along. Some flea markets even host special events specifically set up to mimic traditional garage sales. These five bloggers have all the inside information on finding the best flea markets, garage sales and bargains.