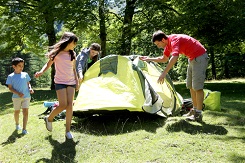 When the time arrives for your family to set out to conquer the great beyond on your first camping trip, you'll want to ensure you're properly prepared. Camping is a fun vacation for everyone, but it's not the same as staying in a luxury hotel by any stretch of the imagination. You have to cook, clean and entertain yourself, and in this case, the kids, too. Follow the advice of these 30 blogs to make sure your first family camping trip is one to remember.
Choosing a Camping Trip
When most people think of camping, they imagine tents, the wilderness, bears and adventures all around. While some or all of those things are what you might see on your camping trip, they aren't the be-all and end-all of camping life. Camping out has come a long way since the days of sleeping under the stars. For your first trip, you can jump straight into the full wilderness experience, but you may want to consider a more luxurious set-up. These five blogs will give you an idea of the different trends in camping, so you can choose a site that suits your family best.
Camping Gear Tips
No matter where you choose for your first camping trip, you are going to need to bring the appropriate gear with you. Less is best, in the sense that you won't want to be hauling huge amounts of gear around with you everywhere that you go. With that said, having the right gear with you is also essential to a great camping trip. Here are five blogs with tips on the kind of gear that will make life so much easier on your first family camping trip.
Wilderness Survival
Whether you are hiking, climbing or swimming in rivers and lakes, you absolutely must learn some essential wilderness survival skills. Although camping is an enriching experience, there are plenty of dangers that you may encounter. You won't regret being prepared, should you get into trouble during your camping trip. In these five blogs you will find a number of tools to help improve your wilderness survival skills, as well as hints and tips on how to stay safe and what to do in an emergency.
Campsite Cooking and Food Tips
Being able to prepare and cook food in the wilderness is a skill in itself, and one that's not all that closely related to cooking in a well-stocked kitchen. It is not something you can pick up on the fly, so take the time now to gain the skills you will need. There are some great tools and gear that will help you along, but for the rest you're going to have to go at it alone. To help you get a head start, these five blogs have expert advice on preparing and cooking food on a camping trip.
Free Activities for Kids
Remember, you're going to need to keep the kids entertained on your camping trip, too. There won't be a TV, gaming console or any of the other modern conveniences that they are used to. Finding free and easy activities, however, will keep them busy. These five blogs contain some great ideas for activities in the great outdoors.
Environmental Awareness and Hygiene
It is very important, while camping, to make sure you leave the site as you found it and don't upset the natural ecosystem. For this reason, you should always keep environmental awareness and hygiene in mind. Work in synchronization with nature by following the advice in these five excellent blogs.