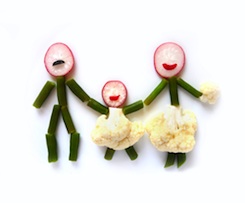 Breakfast, or the act of breaking your fast, is one of the most important things you can do for your body.  You have been sleeping for 7 to 9 hours and your body has digested the food that you ate the day before, so when you wake up in the morning your body is looking for more food to digest.  If you eat something sweet like a donut for breakfast, your body will experience a sugar rush and then a couple hours later a sugar crash.  Sugary breakfasts will not fill you up or satisfy you throughout the morning. When possible, you should try choosing healthier options for your breakfast, as found in these 30 blog entries.  Whether you are coming back from a run, rushing out the door to work or trying to feed the kids, it's possible to eat in a healthy way.  On the weekend, when you have more time, you can try other healthy, more time consuming breakfast recipes. And for those that prefer to eat a vegetarian or vegan diet, there are some breakfast ideas for you too!
Post Workout
It's not always easy to come up with healthy, filling breakfast ideas for after your morning workout.  You are most likely hungry after your workout, but you don't want to undo the good that you have just done for your body by eating something unhealthy.  These six blog articles will explain what you should eat to help your body repair itself after an intense workout.  It is also important to eat foods that will stick with you until lunchtime so that you are not tempted to binge on unhealthy vending machine foods during the day.
In a Flash
During the week, you may not have a lot of time to make yourself a healthy breakfast, but on busy days it's more important than ever to eat right.  These six bloggers have come up with breakfast ideas that can be made ahead of time and grabbed on your way out the door.  Other ideas for a quick breakfast can be found here as well.  Take a look and see if you can find one to try tomorrow.
For the Kids
Some kids just aren't into eating breakfast first thing in the morning, but parents know that breakfast is the most important meal of the day for them.  The brain has to have food in order to work to its full capability, and you're body needs fuel to keep you energized throughout the day.  Here are six ideas for healthy breakfast options that your kids might enjoy.
Weekend Wonders
You probably have more time to spend making breakfast on the weekend, and the kids might even be able to help you. These six blog posts will give you some fun ideas for breakfast, like breakfast cupcakes and baked eggs.  You might even want to combine a few of these ideas for a Sunday brunch.
Vegan Selections
Dairy, eggs and meat are staples of the typical breakfast, but if you are following a vegan lifestyle then you don't eat any of those things.  What can you eat for breakfast as a vegan?  There are some substitutions for non-vegan foods: you can drink soy milk, use an egg substitute and try tofu sausage to create the same types of recipes for more traditional fare. However, in these six blog entries you can find new and different ways to shake up breakfast time.